Orebic is the second most favourite tourist destination in the Southern Dalmatia , immediately following Dubrovnik . Staying in Orebic is interesting, not only due to its beautiful scenery but primarily for its geographic position. It is situated below a very attractive mountain peak of Sv. Ilija (961 m), popular among the fans of mountains, towards which two hiking trails lead. The climb from our house takes 2.5 hours. It is best to start at dawn, to avoid heat, as it reduces the visibility and also the pleasure.

If you are unwilling to hike and still would like to enjoy the view of the island of Korcula and of Peljeski channel, visit the Franciscan Monastery from the 15 th century situated on the altitude of 150 meters. It was first built for watching the Town of Korcula by the Republic of Dubrovnik and in time it turned into the most significant sailors' votive sanctuary of the Southern Dalmatia . It hosts the maritime museum and one of the paintings in its collection is the votive painting made by our great-grandfather Captain B. Marinovic.

From our house, located at the front end of Orebic, you can visit Korcula if you go on a seaside walk (15 min) to the ferry port in the very centre of Orebic and go aboard a vessel that will take you (10 min) to the very centre of Korcula (non-stop service). You may also go on one-day trips by your car to Dubrovnik , stopping by in Ston and enjoying the famous oysters, or you can go to the National Park Mljet by ferry from Peljesac.

Orebic has the largest beach on Peljesac (below our house) and many small beaches among the rocks, and there is also a small archipelago between Orebic and the island of Korcula which you may visit by rent-a-boat.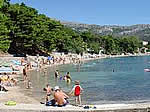 This is not all, because if you visit us you will find so much other information on our notice boards making your holidays in Croatia as pleasant and dynamic as possible.